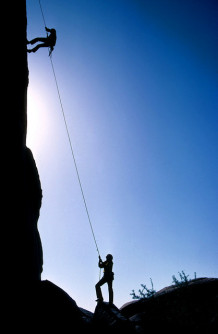 Now that ski season is almost over, it's family rock climbing season. My family and I like to get rad on Table Mountain in Golden, Colorado. Sometimes, we are lucky enough to get an early spring/late winter climb in—the cliffs heat up in the afternoon sun, and we feel like we're getting away with something—cheating Mother Nature.
After a short hike, we get to the base of the rocks. My boys hunt for bugs or find spaces to squeeze into between the stacked crags, while my husband hikes to the top of the rock face and sets up the anchors for the toprope. When we hear, "Rope!" we know to get the heck out of the way so we don't get clobbered by 9 pounds of blue nylon. We love Table Mountain because it has climbs for all levels. And the names of the climbs are pretty funny: Thelma (and) Louise, Mournful Mullet, Basalt and Battery, Killian's Dead, Bullet the Brown Cloud, Plumber's Crack, Deck Chairs on the Titanic, Honey I Shrunk the Hemorrhoids…
Climbing was actually something my husband taught me how to do back when we were dating. One of his first gifts to me were climbing shoes (which were too small, but I wore them anyway, so I ruined my feet for love). He had long honey hair–well below his shoulders–and he'd climb shirtless. He showed me the ropes (pun sooo intended) and taught me the language–the specialized rock jock jargon. He'd take me to Morrison to go bouldering (aka low-height climbs without ropes). Bouldering is all about working out the moves–the puzzles you may encounter on toprope or lead climbs. I remember this one "puzzle" that was three feet off the ground. It required that you defy gravity (support all your weight by your chalked fingernails) for as long as you could before you had to "dyno" the crux of the move (lunge up and find a hold by the grace of God). We had tried several times to make this move, but it kept ending in us falling on our bums. Until it didn't. Yep. It was me. I did it. My then-boyfriend was as astonished as I was. He bragged about me to his climbing buddies.
After several years of "On belays!" and "Climb ons!" then tying the knot (punny) and birthing two rock climbers, it was inevitable that we'd end up on the Golden Cliffs. It took us a while, though. Infants are crappy rock climbers. They cry, and they're afraid of falling, and they can't reach the holds. Wah, wah, wah.  Just kidding. We waited until they were at least toddlers or whatever. Let's just say our "cranking moves" days had become a distant memory, so much so, I forget how to tie a retraced figure 8 knot. I know. I know.  A good friend and fellow crag hag pointed out this sad fact during a couple's dinner. Our husbands were the real climbers—they'd had climbed together since high school—we were the Johnny-come-latelys. When they were in college, my husband fell about 50 feet until the climbing rope caught him, slamming him into the side of the rock. The force of the fall picked his 6 foot 6 buddy up from his harness ten feet off the ground. They were just two dudes hanging around… War stories aside, we gals thought it would be great to have a couple's night at the rock gym, but there were no male takers. So we went to a gym to re-enter the realm of the rock without them. Only problem was, we needed to pass a test before the gym would let us climb. And they wouldn't HELP us. We suddenly realized how much the guys used to cater to us; they were wonderful climbing guides–probably mostly because they were afraid we'd accidentally kill them—but time away from the rocks had us scratching our heads about the details now.
We had to read the signs on the wall and spy on climbers to try to rattle our amnesia. We got into a mild argument about belaying. She wondered why I kept resting half of my rope on my right hip. I wasn't sure, then I shrieked, "Oh! I'm breaking!" (It's a way to lock the rope when the climber is resting or plummeting.) It all came back; we passed; we climbed. My interest rekindled my husband's and the rest is history.
My husband once told me that women are natural climbers because they lack arm strength, so they depend more on their legs. Women leverage upward mobility from the bottom up; guys (not in the know) think they have to do it all with their arms and forget about their legs, so they burn out faster. Now this is either true, or he was trying to woo me.  But there may be something to it; my boys are naturals too and they, being boys, have spaghetti arms, so most of their strength is in their legs. Much like their father, their climbing sometimes looks like climbing ballet—a kind of grace on the rock that shows a oneness.  I hope they won't lose this when they are men.
We are fans of family rock climbing . You'll find us yo-yoing from the cliffs in the late afternoon to get in a few pitches before dinner. Or you'll see my boys chasing elusive brown lizards in between climbs. You might even see me successfully dyno the crux.  When we've had our fill, we'll be at the local tavern telling war stories and eating pizza. And by the way: we're happy to announce that the youngest now hikes up and down the approach trail all by himself—sure was hard to push up that stroller. Just kidding. He was in a BabyBjorn carrier.