Top 10 Gifts for Kids with Autism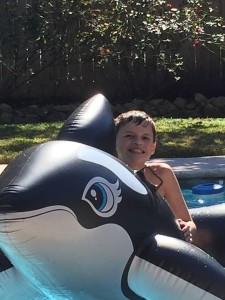 April is Autism Awareness month. The CDC estimates that 1 in 68 children has Autism Spectrum Disorder. In honor of my nephew Miles, who has autism, I am sponsoring his Top 10 Gifts for Kids with Autism list.
Coincidentally, Miles' birthday is in April and he's about to turn 12, so I need to buy him a gift. I toil over this twice a year–his birthday and Christmas–because he's not the best at telling people what he wants. That said, he occasionally has an ecstatic epiphany: "Peppa Pig. Mommy. I want Peppa Pig!" With a request like that, you jump on the Peppa train. But alas, Peppa, like other impulsive "must haves" isn't necessarily what he really wants. It's tough.
Unsurprisingly, his mother, my beautiful sister, toils as well. Not only does she have to figure it out for herself, she has to figure it out for everyone else; eight people beating down the door: "What does he want? What's he into now? What's the latest innovation?" She's lucky to find her own gift, much less everyone else's.
Like all children, Miles has likes and dislikes. He likes drawing…TVs. That's the first thing he needs to scope out when he goes to a restaurant, a home, a Target:  Samsung, LG, Panasonic, Sony, Toshiba, Visio…He needs to know which TV is represented and he needs to frickin' draw it now. He depicts these TVs in bedrooms, family rooms, restaurants, in his aunt's basement…
Every Christmas he and his family stay at my house for a few days. This year, I was intrigued to find choice rooms in my house labeled with cut out slivers from his TV portraiture. My bathroom was aptly labeled "Bathroom," my family room, "Family Room" and so on. Apparently he exported this new development from his home and my sister was hip to it; Santa brought him a label machine. But did he embrace it? No. Evidently, cutting it out from his drawings did the trick. Old school, that one.
But as you can see from the sweet picture above, some things delight and that's what the list below aims to do. Miles tested, Miles approved. Granted, I know your child, friend, or relative might not approve. The autism spectrum is not just a spectrum of behaviors and competencies; with it comes a spectrum of likes. We've definitely bought from the "Autism Toy Experts" sites and have failed to delight. Again, these are Miles Picks; he is a boy (although, his picks are mostly gender neutral), and he is almost 12 (but this is in autism years, which differs from neuro-typical years). But do consider Miles' Top 10 Gifts for Kids with Autism list. It might just suit…
Here are a few ideas others had for Miles that might also do the trick:
Happy shopping! Note: A portion of your purchases will go to the National Autism Association.